The Farm Real Estate in Carolina Forest, SC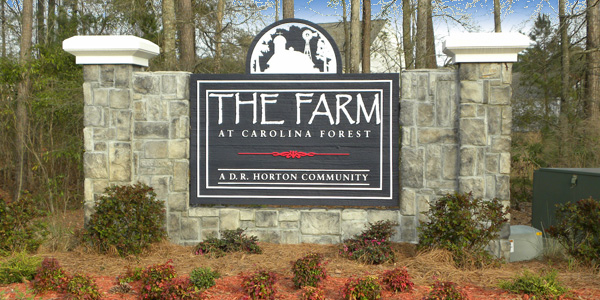 Click to expand/collapse reading about The Farm
More Content Coming Soon
The amenity center consists of an 8,000 square foot pool complex, with 2 pools connected by a bridge walkway. The barn themed clubhouse, offers its residents at the Farm a large area for social events, and a state-of-the-art equipment fitness center. A red-barn themed children's playground system, complete with fun slides, chute slides, climbers, and multiple levels of play platforms is sure to delight. Bike paths, sidewalks, and a public garden create a welcoming union between neighborhood and nature
The trees have been carefully preserved the keep the natural beauty present in this popular community. Street lined sidewalks make safe pedestrian travel for children, walkers and other forms of exercise that the residents choose. There are lakes and parks, and a nature trail throughout the scenes that you observe as you travel around this favorite family neighborhood. With health and recreation in mind, the developers created a junior Olympic pool and fitness facility, as the center of the community's summer activity.
The Farm at Carolina Forest is only about 10 minutes to the Atlantic Ocean and all the major shopping centers that Myrtle Beach has to offer. Real Estate at the Farm at Carolina Forest consists of single family homes, condos and town homes. Homes for sale at the Farm range from the 130's to the high 300's. Prices for condos and town homes at the Farm range from the 180's to the 110's. The largest condos and town homes are about 1,800 square feet and 3 bedrooms.
The Farm Homes For Sale in Carolina Forest, SC
The Farm Homes For Sale - Top 12 Prices
Photos of The Farm
Click any picture for a larger view.